Annual Report 2022
Building Vibrant Jewish Life Together
Annual Report 2022
A Message from our President and CEO
Friends,
Thanks to you — our passionate community members and visionary leaders — 2022 has been marked by compassion, generosity, and collective accomplishments.
Driven by our shared commitment to each other and a vibrant future, Jewish Greater Washington continues to step up, as always, to care for one another and further Jewish life locally, in Israel, and around the world.
Read on for a sampling of how our community has supported one another, lived out the Jewish value of opening our arms and hearts to the stranger, deepened our connections with Israel and Israelis, celebrated and empowered leaders, strengthened and expanded Jewish identity building programs, and so much more.
We hope you are as proud and inspired as we are by the breadth and depth of our shared accomplishments, and just as encouraged by what lies ahead. As always, we welcome your feedback and ideas and hope you'll share them with us here.
Thank you for choosing to connect with purpose by connecting with The Jewish Federation. We are deeply grateful for everything you do to care for, build, and create a brighter future for Jewish Greater Washington.
Gil Preuss, PhD
Chief Executive Officer
Our Mission
To inspire, build, and sustain vibrant Jewish life in a changing world by mobilizing our community in common purpose, intentional innovation, and effective action.
Vision for Our Community
An open, connected, and vibrant Jewish community that cares for each other, fosters Jewish learning and journeys, embraces Jewish peoplehood and Israel, and acts as a force for good in the world.
Federation's distinct vantage point empowers us to identify the most pressing issues facing our community and mobilize community builders, philanthropists, leaders, and resources to address them.
We are the only organization with the capacity, scope, and mandate to advance our community by identifying and seizing communal opportunities for growth.
By forging meaningful connections and collaborative partnerships, we unite local leaders and organizations to pursue a shared vision and meet our community's needs.
As our community and the world continue to overcome concurrent challenges and prepare for others, Federation's work remains critical.
Connecting People with Purpose
Federation enhances community members' connections with one another, local Jewish organizations, Israel, and Jewish communities around the world. With every purposeful connection we foster, we move Jewish Greater Washington towards a stronger, more vibrant Jewish future.
A Collective Force for Good
Federation's expansion of Sara & Samuel J. Lessans Good Deeds Day into Good Deeds Week continued for the second year in 2022, with a renewed focus on combating food insecurity by convening 70+ partners in the volunteer efforts from April 3 to April 10, 2022. More than 1,000 volunteers helped deliver critical support to local food pantries and other organizations.
Connecting those in need with vital resources
703-J-CARING: the Jewish Community Support Line launched in 2020 as a partnership between Federation, JSSA, and our network of partners in response to COVID-19 pandemic. Today, the Support Line continues to streamline access to available human service resources throughout Greater Washington. As we adapt to meet evolving and changing community needs, 703-J-CARING now provides callers with increased case management support, expanded access to essential food items and kosher meals, and much more.
1,000 callers to 703-J-CARING have been connected with critical resources when they need them most.
Connecting Northern Virginia's Jewish community
Enriching Jewish connections and engagement in Northern Virginia (NOVA) is a key part of Federation's work, and why we've partnered with JOIN, the Jewish Organizing Institute and Network, to launch JOIN in NOVA. This grassroots initiative welcomes new voices, cultivates new leaders, engages stakeholders, creates connections, and explores what it means to be part of a community and Jewish in NOVA.
In 2021-22, 157 people participated in 21 JOIN meetings across 46 zip codes, leading to a growing network of engaged NOVA Jewish community members.
Making Jewish Experiences Accessible
Jewish communal experiences cultivate and strengthen Jewish identity. Federation is committed to helping community members of all ages, backgrounds, and identities access and opt into the rich diversity of local Jewish learning and identity-building experiences.
Meaningful Jewish experiences often begin at camp
Federation empowers hundreds of local children to attend Jewish summer camp — many for the first time — through financial aid and One Happy Camper scholarships. At camp, love for Jewish life grows, friendships are formed, community is created, and Jewish identity is both forged and constantly reinforced by a sense of belonging.
in camp scholarships and grants awarded, bringing Federation's funding to over $1 million since 2021.
children from our region attended camp in 2022, including nearly 300 who experienced Jewish overnight summer camp for the first time through Federation and One Happy Camper scholarships.
I am so grateful for the financial aid and the knowledge that there is an organization supporting us as we raise Jewish children. We will remember Federation."
—Jessica K., Scholarship Recipient Parent
Deepening Jewish identities through books & programs
Children learn about the world around them through stories and experiences. Facilitated by Federation in Greater Washington, PJ Library elevates Jewish values through books and stories, and provides inspiration for children and their families to share together through enriching programs and a deep connection to Judaism.
98,896 books were sent to 6,460 families in 2022.
The notion of a free Jewish book a month was a lifeline for me to teach my child about our Jewish culture. What a blessing this program has been!"
—PJ Library Parent
Strengthening relationships with families with young children
A generous grant from the Harold Grinspoon Foundation empowered Federation to further our investment in and strengthen the skills of local professionals who work with families with young children. Through our REFUEL (Relational Engagement for Families Using Enhanced Learning) initiative, Federation-funded JFamily Ambassadors and our three local JCCs began an innovative, year-long journey into relationship-based engagement with experts from Gather, Inc.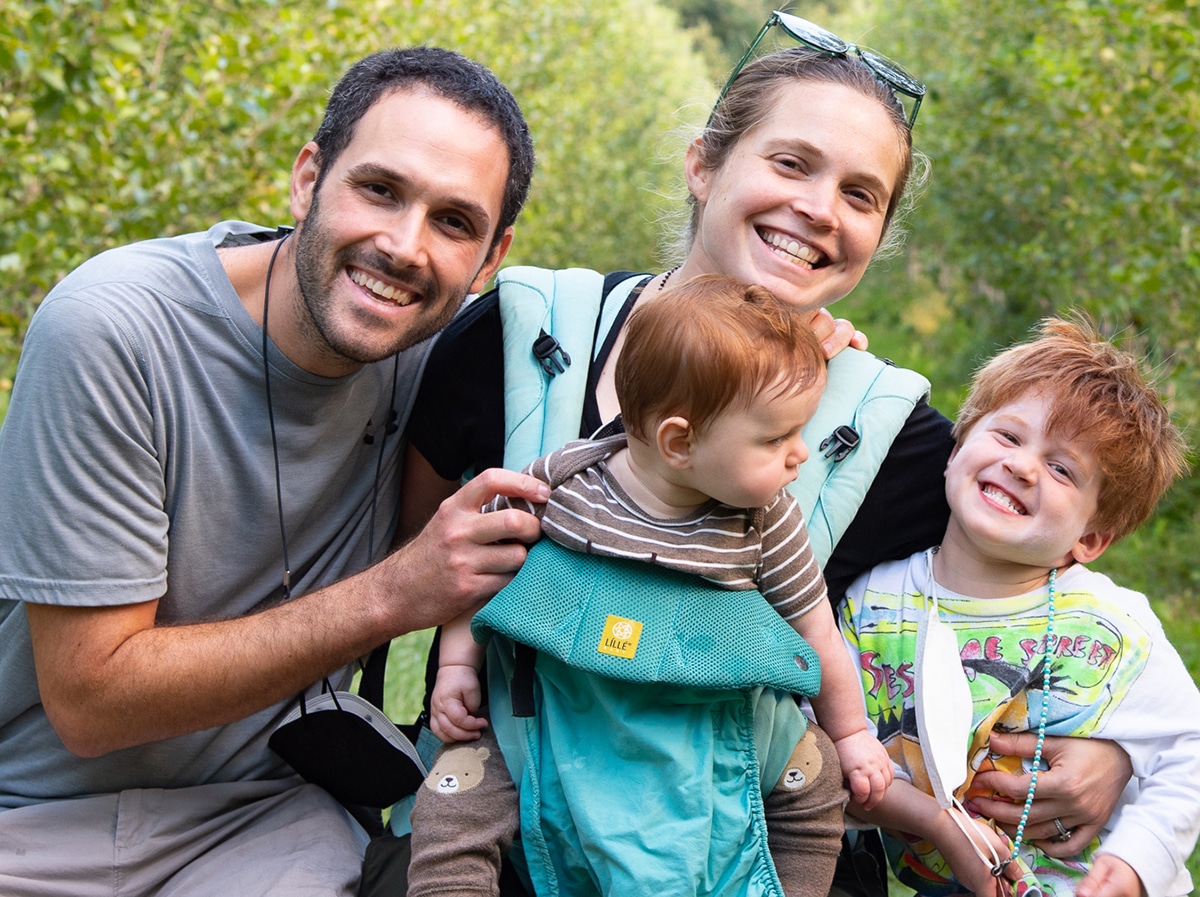 I now pay more attention to ensure all audiences are included at events and programs. I remind myself not everyone has the same background regarding Judaism."
—REFUEL Participant
Empowering Leaders to Effect Change
When we bolster the capacity of leaders across the region, our entire community benefits. Federation seeks to empower and educate the current and future Jewish leaders who will guide our community forward, and who reflect the interests, needs, and diversity of Jewish Greater Washington.
Honoring today's change makers: Federation's 2022 Capital Chai
In 2022, Federation proudly launched the inaugural Capital Chai Awards, celebrating and honoring 18 Jewish leaders under 40 from across Greater Washington who are committed to making the world a better place. These members of the next generation are making an incredible difference today and laying the groundwork for the future. Nominated by friends and colleagues and selected by their peers from a field of more than 100 nominations, our Capital Chai honorees received their awards at Federation's 2022 Annual Meeting.
It is really an honor [to be recognized], especially to be in a community with so many amazing folks I look up to and respect."
—Marissa Ditkowsky,
Federation's 2022 Capital Chai Honoree
Elevating and engaging local Jewish leaders
Federation's Jewish Community Leadership Program engages local volunteer leaders on the biggest issues confronting Greater Washington's Jewish community, encouraging them to pursue a communal culture and collective vision for the future.
Developing rising leaders through NEXUS
Through NEXUS, our eight-session Next Gen leadership program, Federation helps participants in their 20s and 30s enrich their leadership abilities in order to take on our community's biggest challenges and move Jewish Greater Washington forward. Participants also gain exclusive access to Federation's network of resources and community of established philanthropic leaders and mentors.
Through NEXUS, I had the opportunity to learn firsthand about Jewish Greater Washington's resources and connect with a network of like-minded young Jewish leaders. This program taught me how to hone my leadership skills and encouraged me to use those skills to engage my community and further our collective impact."
—Hadar A., NEXUS Class of 2022
Since 2006, 450 alumni across 15 cohorts have graduated from Federation's NEXUS program. Today, those alumni are using what they learned and are now serving in leadership roles throughout our community.
Celebrating our community builders
On September 30, 2021, 200+ local community and real estate leaders gathered for Cornerstone — an event two years in the making. In addition to toasting the contributions of the real estate industry and raising $1.25 million for our efforts to reduce poverty and economic insecurity in the Jewish community, Federation recognized the incomparable Robert P. Kogod as the inaugural recipient of the Community Builder Award.
Watch our Cornerstone videos to learn more about Robert P. Kogod's inspiring leadership, impact, and guidance for our community.
Fostering Inclusion & Belonging
Diversity, equity, inclusion, and belonging are embedded in Federation's work year-round. We recognize the innate value, dignity, and capabilities of every individual, and are committed to fostering an inclusive, welcoming community where every person feels they belong.
Disability awareness, acceptance & inclusion
Through Federation's Disability Inclusion Task Force and initiatives such as Jewish Disability Awareness, Acceptance & Inclusion Month (JDAIM), we are proud to join with local and global organizations and communities to raise awareness, champion the rights, and meet the needs of people with disabilities.
Learn more about the individuals and organizations doing this important work:
Creating a community of belonging through dialogue
As our society and community grow more deeply divided on significant issues, finding a sense of belonging can sometimes feel out of reach. And yet, doing so is crucial to sustaining our connectedness as a Jewish community. In May, as part of Federation's ongoing partnership with the Shalom Hartman Institute, and to help consider how we can pursue a community of belonging in light of our differences, Dr. Mijal Bitton, Scholar in Residence at the Shalom Hartman Institute, and Yolanda Savage-Narva, Federation Board Member and Assistant Vice President of Racial Equity, Diversity, and Inclusion at the Union for Reform Judaism, joined Federation CEO, Gil Preuss, in conversation on belonging and moving forward as a community.
Promoting inclusion advocacy and education at synagogues
Federation's Initiative in Congregational Education (ICE) provides nearly $50,000 in annual funding to support congregational education, experiences, and leadership through training, broad-based networking, and programming on a wide range of topics, including promoting inclusion.
Supporting a Strong Communal Ecosystem
Successful, engaging organizations reflect and respond to the needs of their constituents and members. Federation is committed to supporting our partners — local human service, identity-building, educational, and spiritual organizations — in their work to care for Jewish Greater Washington.
Jewish communal professionals from organizations across Greater Washington attend the 2022 JPRO Conference in Cleveland, OH.
Bolstering organizational leadership
Successful organizations — and the dynamic ecosystems they support – stem from strong leadership. Federation's investment in organizational leaders is designed to serve our full community.
In 2022, Federation piloted an innovative partnership with the International Coaching Federation (ICF) Metro DC Chapter, and eight Jewish community professionals representing JCCs, Hillels, the Jewish Community Relations Council, Jewish day schools, and human service organizations. The ICF DC, ICF's largest US chapter, provided up to eight hours of top-level certified executive coaching for each professional.
Partner agency executives have huge tasks to support the community and supporting the agency executives themselves to maintain and provide the best services possible is essential. It [coaching] is one of the most important things Federation can do for agency execs."
—Agency executive & pilot participant
It's great to see Federation invest, not only in our agencies, but directly in our leaders."
—Agency executive & pilot participant
Federation is proud to welcome our newest partner agencies: GatherDC and Garden of Remembrance.
A long-time program partner of Federation, GatherDC serves as the one-stop shop for everything local 20s and 30s need to live their best Jewish life in Greater Washington. Gather envisions a future where every Jewish 20- and 30-something finds a lasting, compelling connection to Judaism.
GatherDC is thrilled to share in Federation's vision of a robust and diverse ecosystem for Jewish life across the DMV, and to play our small role in this effort. This formal status as a partnership agency is an organic evolution of an ongoing relationship of mutual respect and trust between our institutions. We are thrilled to continue our work in even deeper partnership, and to strengthen Jewish life across the area."
—Rachel Gildner, CEO, Gather, Inc.
Garden of Remembrance Memorial Park
Founded in 1999 and opened in the fall of 2000 in Clarksburg, MD, Garden of Remembrance offers comprehensive services in accordance with all branches of Judaism, reflecting the full range of Jewish practices and honoring personal preferences. Twenty-nine Washington area congregations — among them Orthodox, Conservative, Reform, Reconstructionist, and Renewal — have chosen the Garden of Remembrance as their official congregational cemetery.
Becoming a funded partner agency of Federation enhances our ability to fulfill our mission of honoring loved ones lost in our community and comforting the bereaved during their time of need with services based on Jewish values and traditions."
—Glenn Easton, Executive Director,
Garden of Remembrance Memorial Park
As antisemitic incidents increase locally and nationally, the safety and security of our Jewish community remains a top priority for Federation. In partnership with Secure Community Network (SCN) and the Jewish Community Relations Council of Greater Washington (JCRC), Federation is committed to ensuring our community members and institutions are safe, secure, and prepared for a crisis. Federation, SCN, and JCRC continue to connect our community and communal organizations with resources and education to keep Jewish Greater Washington safe and secure.
Capital Camps & Retreat Center has received invaluable advice and training thanks to the partnership between SCN and Federation. Our staff now trains annually to ensure we are up to date on the latest guidance to protect our community and campus."
—Havi Goldscher, CEO, Capital Camps & Retreat Center
In 2022, Federation delivered over $1M in security services across our Jewish community through our partnership with Secure Community Network. This included 28 facility assessments and 115 training courses with over 4,000 attendees, and 126 security consults. 
In addition to those direct services, 58 agencies also received assistance in accessing federal funding through the Nonprofit Security Grant Program, designed to fund physical security enhancements and activities to nonprofit organizations at high risk of terrorist attacks.
In 2022, Federation partnered with Jewish Federations of North America for the local launch of LiveSecure: an unprecedented national campaign and initiative to ensure the security and resiliency of our communities today and into the future. Our success will ensure we can provide additional training, tools, and resources to protect those inside our Jewish community centers, synagogues, schools, senior centers, summer camps, and other centers of Jewish life.
Investing in our Communal Relationship with Israel
Federation is working to bridge the growing gap between American Jews and Israel through ongoing dialogue, immersive experiences, and innovation. Our newest $800,000 investment — guided by our diverse Israel Task Force — includes a series of one-year grants to 21 groups who are actively building a collective Israeli society, through work both within Israel and in our local community.
Connecting Greater Washington with Israel & Israelis
Each year, Federation's Community Shlichim Program brings a cohort — or mishlachat — of young Israeli emissaries to Greater Washington. In their roles at local congregations, schools, and community centers, each shaliach transforms how thousands of local community members relate to Israel and Israelis. For the shlichim themselves, the experience and immersion in American Jewish life is equally transformative.
In May, Mala Hod, shlicha at Olam Tikvah, brought together 250 people of all ages from across Greater Washington to celebrate Yom Ha'atzmaut (Israeli Independence Day). Through this program, organized by Mala and a team of volunteers, participants learned about a traditional Yom Ha'atzmaut celebration, with music, food, and games, helping to foster a deeper sense of Kol Israel Achim (all of Israel are siblings) while celebrating community.
In 2021-2022, Federation's 12 community shlichim connected 4,000+ people to Israel through more than 171 programs.
Welcoming unique perspectives on Israeli life
In August 2021, Federation welcomed Gadeer Kamal-Mreeh, Israeli Druze politician, journalist, and the first Druze Jewish Agency shlicha (Israeli emissary) to Greater Washington. In December, Federation CEO, Gil Preuss, sat down with Gadeer to discuss her inspiring career, her motivation to become an emissary in Greater Washington, and her plans to convey the multifaceted reality of Israel to our local community and throughout North America.
Watch the discussion between Federation CEO, Gil Preuss, and Gadeer Kamal-Mreeh.
Embracing resilience, challenge, and change in Israel
In May 2022, Federation CEO, Gil Preuss, led eight local rabbis from a cross-section of denominations on a specially designed mission to Israel. Together, the group explored the diverse, exciting, and sometimes challenging country building a modern, Jewish, democratic state for all its citizens and for the global Jewish community.
Advancing discourse about Israel & its future
Much like those in Israel, our American Jewish community is living in a time of complexity and amidst a diversity of opinions. Discourse around Israel has become increasingly challenging, and with conflict arising from fiercely divergent viewpoints, some may wonder: can we still engage in meaningful, respectful, and productive conversation about Israel? Federation remains committed to ensuring Jewish Greater Washington is equipped to do so.
Watch the lively conversation between Rabbi Dr. Donniel Hartman, President of the Shalom Hartman Institute, and Gil Preuss, Federation CEO — leaders with a keen understanding of our Jewish community and inspiring perspectives on how we grow from here.
In March, modeled on Federation's successful 2019 and 2020 Pitch Nights, and with the strategic guidance of our Israel Task Force, Federation hosted the 2022 Israel Pitch Event. 33 organizations pitched innovative proposals that align with our priorities in Israel, and in June, 21 proposals received grant funding for further development.
Learn about two of our funded proposals
Encounter: Next Gen Leadership Initiative Pilot
Arava Institute for Environmental Studies
It is wonderful to see how broadly Federation is reaching in terms of its potential grantees."
—Israel Pitch Event Applicant
Caring for our Global Jewish Community
Belonging to a global Jewish community means assisting and caring for Jews wherever they are and whenever they need us. That's why, year-round, Federation works closely with our international partners — JDC, the Jewish Agency for Israel, and World ORT — to meet the needs of Jewish communities in Israel and 70+ countries around the globe.
Eli Mandelbaum/The Jewish Agency for Israel
Responding to the war in Ukraine
Decades of support from Federation's Annual Campaign and Jewish Community Foundation grants, as well as our strong relationships with our global partners on the ground, built the infrastructure needed to respond urgently to an emergency, including to the horrors of war. Following Russia's invasion of Ukraine, Federation and our partners were able to act swiftly to meet the critical needs of Ukraine's more than 200,000 Jews. As needs — and costs to meet them — grew, Federation and our community were there to help.
donors to Federation's Ukraine Emergency Fund.*
raised as part of Jewish Federations of North America's $73 million fundraising campaign for Ukraine.*
Our collective impact in Ukraine
Evacuated more than 12,900 Jews from Ukraine.
Received over 18,412 incoming calls and made over 44,230 outgoing calls on its emergency hotlines.
Provided 39,178 refugees with food, medicine, trauma support, and more.
Delivered over 617 tons of humanitarian assistance.

Treated more than 7,200 patients at the JDC- Natan field clinic.
Brought more than 24,000 people to Israel from the region, through immigration visas and eligibility requests.
Resettling — and reuniting — Ethiopian Jews in Israel
Since 1977, Federation partner, The Jewish Agency for Israel, has been instrumental in facilitating the Aliyah (immigration to Israel) and resettlement of more than 92,000 Ethiopian Jews.
In June 2022, Federation Board Member, Laura Cutler, represented Jewish Greater Washington on an incomparable leadership mission to Ethiopia and Israel, guided by Jewish Federations of North America and The Jewish Agency. After three days on the ground in Ethiopia for a special mission, Laura and other North American Jewish leaders accompanied 180 new Ethiopian olim (immigrants) on their long-awaited flight to Israel.
Jewish Greater Washington's Partner in Philanthropy
Federation's generous donors come from a variety of backgrounds, life stages, and locations across DC, MD, and Northern VA. But for all that sets these individuals apart, Federation donors are united in their efforts to care for our community members, address critical needs locally, in Israel, and around the world, and work to build a vibrant Jewish future. We are deeply grateful for the thousands of community members whose support makes our work possible.
Meet Susan Kristol
Federation Board member and Lion of Judah, Susan Kristol, had the "Last Word" in the Washington Jewish Week, reflecting on teaching, Federation, family, and more. We are grateful for Susan's continued leadership of our community, including as 2020-2021 board president of Federation partner agency, Pozez JCC of Northern Virginia.
Federation is a way to connect your love of Judaism and love of culture with a lot of very smart, motivated Jewish people that don't necessarily live in your immediate neighborhood."
—Susan Kristol
Meet Sara Evangelista
Sara Evangelista, Director of Jewish Student Life at GW Hillel, and Campaign Co-Chair of Federation's Next Gen Board, grew up in an interfaith household with what she calls a "buffet of Jewish experiences." Sara brings her unique perspective to creating an inclusive community that embraces Jewish people for who they are.
DC is a wonderful, but sometimes overwhelming, city. For young adults to feel fulfilled and supported as they navigate life here, they need a place where they feel a sense of belonging. Helping young adults find that space within the Jewish community is so important and sets them up to achieve incredible things."
—Sara Evangelista
Hear from more of our incredible donors on why they give to Federation
Introducing the Jewish Community Foundation 
In 2022, Federation's United Jewish Endowment Fund took on a new name and expanded role as the Jewish Community Foundation, to inspire generosity within and beyond the Jewish community, empower philanthropists to collaborate and learn with others, and invest to make lasting change. We believe philanthropy has the power to ensure all people are equipped to achieve their full potential, and that connecting funders with essential opportunities empowers them to meet the most critical needs of our Jewish community and the broader world. Our experts have guided hundreds of Greater Washington's Jewish community members towards highly customized philanthropic portfolios to make both immediate and long-lasting impacts.
Interfaith collaboration for Afghan resettlement
In the fall of 2021, as Kabul, Afghanistan fell to the Taliban, local donors approached Federation and the Jewish Community Foundation (then UJEF) to pursue ways to help displaced Afghans. We quickly set to work, connecting our donors with our interfaith partners. In just a few short weeks, our generous donors granted $743,501 help with this effort. This donor-led initiative helped hundreds of school-aged children access immunizations and enroll in school; provided adults with mentorship programs, college assistance, and access to employment specialists; delivered long-term food and housing assistance; and continues to meet ongoing healthcare needs.
Funding & Allocations
Snapshot
With gratitude to our generous donors, resources raised and collected by Federation and the Jewish Community Foundation help those in need and build and sustain vibrant Jewish life in a changing world.
Jewish Community Foundation Snapshot
Federation's Jewish Community Foundation manages $295.4 million and proudly administers 817 donor funds, including 262 Donor Advised Funds.
Assets Under Management: $295,400,000
Resources Raised by the Jewish Community Foundation: $39.9M
Federation and Jewish Community Foundation


2022-2023 Allocations

$29,135,433
in resources allocated by Federation and the Jewish Community Foundation
from all sources, donor designated gifts, and government grants, support programs and services locally, in Israel, and around the world.
Caring for Individuals & Families in Need
$4.6M+ allocated to support individuals and families in need across Greater Washington with food, housing, healthcare, and more, and to further Federation's comprehensive and integrated strategy to address evolving communal needs for the long-term.
Investing in Vibrant Jewish Life
$9M+ allocated to strengthen and sustain a flourishing Jewish community in
which all members can find a sense of belonging and develop meaningful ties with one another; engage deeply with Jewish culture, texts, history tradition, wisdom, and values; connect with groups and organizations that foster and sustain ongoing relationships; and act as a force for good in the world.
Supporting Jewish life in Israel & Overseas
$9M+ allocated to meet the needs of Jewish communities in Israel and more than 70 countries around the world — including $2.4 million to meet urgent and ongoing needs in Ukraine — through our global partnerships and supplemental grant funding.
Federation is grateful to our volunteers, leaders, donors, professional team, corporate sponsors, and community partners. Thank you for guiding our community with passion and creativity, giving generously to meet pressing needs, and sustaining vibrant Jewish life in our region.
On behalf of our partners and all those we serve, thank you for your commitment to strengthening Jewish life and making a difference for thousands in our local and global Jewish community.