Careers
The Jewish Federation of Greater Washington envisions an open, connected, and vibrant Jewish community that cares for each other, fosters Jewish learning and journeys, embraces Jewish peoplehood and Israel, and acts as a force for good in the world. As a mission-driven non-profit organization, Federation works to inspire, build, and sustain vibrant Jewish life in a changing world by mobilizing our community in common purpose, intentional innovation, and effective action.
We lead with commitment to our community
We embrace opportunities to positively impact the people we serve around the corner and across the world.
We work together to create a better world
Collaboration drives our greatest achievements, so we partner with others who share a clear vision for a vibrant Jewish future.
We respond with care
Striving to understand and address the needs of those around us, we respond in ways that make a difference in peoples' lives.
We respect diverse perspectives
Federation fosters a learning culture where diverse perspectives are included and empowered to help shape our work and organization.
We build trust with transparency
By communicating our motives and inviting others to participate in our work, we seek to show how Federation is serving the greater good.
We evolve with a clear sense of purpose
United in our determination to connect with purpose, we continually endeavor to learn and adapt as an organization in order to deliver greater impact.
Great Perks. Because We Appreciate Great Employees.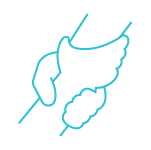 Community

We come together as a staff to commemorate holidays (from Rosh Hashanah to MLK Day), volunteer at nonprofits, and celebrate our accomplishments together. Fridays our offices close at 3:00 PM year-round in observance of the Sabbath. All so you can relax and recharge.
Time Off
We offer generous time off benefits including vacation, sick days, Federal holidays, and religious observances. We've also got you covered with a great parental leave plan.
Healthcare
Federation provides top-tier medical, dental, and vision plans along with a flexible spending account. We also offer life insurance, long-term disability insurance, and a stipend for wellness/fitness programs. Your physical and mental health matter to us.
Planning for Retirement
Federation employees can enroll in a retirement plan and tax deferred annuity.
Career Development
Classes, workshops, and compelling speakers are constantly enhancing your work experience. We offer a professional development stipend so you can be at the top of your game.
But Wait…There's More!
At Federation, you'll join a team of driven, talented professionals who are passionate about their work and our community. We ground our efforts in the Jewish value that all human beings are created "b'tzelem elohim" (in God's image), and are committed to building a culture of diversity, equity, inclusion, and belonging.