Meet the Jewish Federation's 2023-2024 Community Shlichim
Each year, The Jewish Federation's Community Shlichim Program brings shlichim (emissaries) to Greater Washington. The program connects Israelis with our community and transforms how thousands of community members deepen their connection and relationship to Israel.
Through a program of  The Jewish Agency for Israel and generous funding from Federation, our community will benefit from the nation's largest-ever mishlachat (delegation) of community shlichim to serve in our community's congregations and schools. The community shlichim are dedicated to the Jewish people, Jewish heritage, and to Israel. They are hand-picked from different parts of Israeli society and diverse professional backgrounds.
In conjunction with their congregations and schools, the shlichim will develop projects surrounding a social impact issue, creating unique programming designed to increase Jewish awareness, knowledge and pride, bridge the gap between Jews of different backgrounds and the State of Israel, and promote an understanding of Israel and its ideals both at their "home" institutions as well as for the larger community. The shlichim, in turn, will discover the diverse and vibrant American Jewish community through their varied experiences in Greater Washington.
Learn more about their lives in Israel, what motivates their mission to educate around the world, and how they inspire others from their stories.
Abraham Belilty
Shaare Torah

Abraham is from Haifa, bringing with him his cats, Leah and Pluto, to be a part of the Shaare Torah community. Abraham was born in Venezuela and made Aliyah (immigration to Israel) with his family at six years old to Ra'anana. After finishing high school, Abraham began his way in the shlichut (a group of Israeli cultural emissaries) world during his shinshin (year of service) for the Federation of Greater Metro West in New Jersey. He was a combat medic for most of his Israeli Defense Forces service except for a year when he as part of the education corps to encourage and assist teens before army service to have a meaningful and suitable position. While studying for his BA in education and Jewish history, Abraham worked in NOAM, the Israeli conservative youth movement, leading various groups and writing educational programs. Abraham wishes to be a history and Jewish thought teacher in Israel, hoping to share with his students his understanding of Jewish peoplehood. Abraham is a DJ and believes he's a good dancer, likes cooking and learning (particularly Jewish thought), and he is very excited to be part of this mishlachat (delegation of young Israeli adults)!
Avi Eisen
Beth Sholom Congregation

Avi is the eldest of four boys and was raised in the largely Anglo-Saxon community of "Nofei Aviv" in Beit Shemesh. Throughout his childhood, Avi would visit his grandparents in Baltimore over the summer. As a teenager, he was a counselor in B'nei Akiva and active in "Acharai," a pre-army youth movement. Avi was interested in exploring the area outside of Beit Shemesh and attended high school in Jerusalem while also pursuing an education at Bar Ilan University, where he received a BA in Middle Eastern Studies. After graduation, Avi attended Yeshivat Ma'ale Gilboa for almost two years. He volunteered to serve in the Navy and after graduating from the Israeli Naval Academy (Hovlim), he served as a ship captain and worked hard to secure the Israeli-Gaza border on a daily basis. Avi's dedication paid off as he finished his time with the Navy as a director of the patrol ship brigade and is currently an active reservist (Lt. Commander). During his service with the Navy, Avi married Avia and they moved to the Negev (southern Israel). After his release, he worked as a security and operations team lead on Israel's most prominent strategic asset, Karish FPSO. In his free time, Avi engages in startup entrepreneurships, organizing activities for his community, long–distance running, and studying Daf Yomi. Avi speaks Hebrew, English, and Arabic, and is passionate about Jewish thought and connecting people through ideas.   
Avia Halevi
The Jewish Federation of Greater Washington

Avia was born in Rosh Ha-Ayin to a traditional Yemenite family, as the middle child of five children. Growing up, she was a counselor at B'nei Akiva and a tour guide in "Shelcah," a hiking and nature youth movement. After graduation, Avia spent a year as a Shin-Shinit (service volunteer) in an absorption center in Tzfat, working with Olim (immigrants) of all ages and backgrounds. She served in the IDF Air Force as an NCO traffic controller, and currently serves as an active reservist. After her release, Avia moved to Ethiopia to live with the Jewish community in Gondar for several months. She continued to travel throughout Africa, North and South America, and India, where she joined the staff of "HaChava Shel Adam," a unique retreat intended for Israeli travelers. During COVID, Avia married Avi and they moved to the Negev (southern Israel), as she always felt that the desert was home. Avia is an artist. She enjoys exploring ancient crafts such as weaving and woodworking, and believes that mutual creation is a great way to connect between individuals of different cultures. In her pottery studio Tenn'e, Avia hosts art workshops inspired by the desert. In her free time, Avia enjoys traveling around the world and is especially interested in ideas and cultural exchange.   
Dean Bagdadi
Pozez JCC of Northern Virginia

Dean is married with two cats and has lived in Be'er Sheva in the south of Israel his whole life. He comes from a mixed background of both secular and traditional Jewish families with roots across the globe. Before embarking to be a part of the shlichut (a group of Israeli cultural emissaries), he was part of "The movement for quality government in Israel," which is a non–profit NGO that combats corruption and works for a better, more efficient and more qualified administration in Israel. He has experience in the civil society field, community engagement, and public affairs. Dean loves cooking and baking, camping, and is a big video and board game geek. Dean has a bachelor's in political science and business management from Ben Gurion University (BGU). During his undergraduate years, he was the chairperson of the board for the student's union of BGU, part of an ADL leadership delegation, an intern for the national student's union foreign relations and government office, part of four political campaigns, a formal and informal education instructor, and a social media manager for Jusidman academic youth center. During his army service, he was a logistics officer who ranked up to captain and still takes part as a reservist commander for supply convoys.
Ido Naaman
B'nai Tzedek

Ido was born in Ramat Magshimim, a small moshav (cooperative settlement) in the Golan Heights. Before his army service, Ido took a gap year and volunteered as a counsellor in a youth village in the Galilee. Ido then served in the Israeli Defense Forces as a tank gunner and an intelligence Sargent. During the last year, Ido worked on kibbutz Nir David, located at the Biet Shean Valley, as the main counsellor at the informal education system for the youth group (7th grade to 12th grade) and for the "Kids House" (3rd and 4th grades) where he led numerous educational programs. Ido enjoys playing guitar, piano, and drums as well as cooking and hiking. He is very excited to be the shaliach at Bnai Tzedek and connect people to Israel.
Laila Akselrad
Mo'Ed & Ohr Kodesh Congregation
Laila was born in La Plata, Argentina. At the age of one, she moved with her family to Spain, where they lived for 10 years. When she was 12 years old, her family made Aliya (immigration to Israel) and lived in Kfar Saba, a small town in central Israel. In middle school, she began her journey in the world of education as part of the Mashatzim program – a program that teaches children about the land of Israel and Israeli culture through nature and field trips. In 2019, Laila enlisted in the army and served as a commanding officer for Air Force troops in the first phase of training. In this role, she instilled Israeli values and love for the country in the soldiers. In addition, she served as a support system and guided them through this important and challenging time in their lives. Since the age of four, Laila has enjoyed dancing and participating in dance competitions. Laila is passionate about education, dance, and exploring the world and the different cultures in it. She is excited to learn, grow, and bring her fields of knowledge to this wonderful community. 
Rut Shtikan
Makom

Rut is from Givatayim. She was born to a family that made Aliyah from Russia back in the 1990s. She began her social activity as a guide and youth coordinator at Bnei Akiva Youth movement. Later, she did her National Service at a youth village for at risk children and, afterwards, went straight to study Behavioral Science at Ariel University. During the last year, Rut worked as HR at Beit Ekstein, the leading organization in Israel for people with special needs. In her spare time, she enjoys hiking, going out with friends, having family time, and meeting new people from different cultures.
Snir Holtzman
Temple Emanuel

Snir was born in Tel-Aviv and raised in Holon. Before becoming a shaliach (Israeli emissary), Snir volunteered in his neighborhood's community center as a youth counselor, where he led and mentored youth groups of different ages. He served in the Israeli Defense Forces (IDF) as a drill sergeant, later becoming a staff sergeant in BHD 11, the IDF's training base and school of Human Resources. He worked with new recruits joining the IDF, teaching them the basics of serving in the army and much more. After his service, Snir worked at Olin Sang Ruby Union Institute, a summer camp in Oconomowoc, WI for two summers. He was a counselor in the chalutzim (Pioneers in the building of the State of Israel) program, a Hebrew immersive program for rising sophomores and juniors, and as Sgan (second in command) in Avodah, the camp's Counselor in Training program. He also worked at Alexander Muss High School in Israel, a boarding school in Hod Hasharon and was a counselor of a group of seniors (class of 2022) from Charles E. Smith Jewish Day School in Maryland during their semester in Israel, teaching them about Israel, Judaism, and their Jewish identities. Snir enjoys working out, hiking, cooking, and reading. He's also very into film, television, and filmmaking. He wanted to become a shaliach to create meaningful and deep relationships with Jewish youth and young adults in the Greater Washington Jewish community and help them navigate growing up and shaping their Jewish identity and relationship to Israel.
Uriel Lin
B'nai Israel Congregation

Uriel was born as the youngest of five and raised in a small agricultural moshav (a cooperative agricultural settlement) called Beit Ela'zari. She was born into a family of Zionist pioneers who dedicated their youth to building the country of Israel in its early years. As a child, she took part in the village's youth movement (Bna'i Hamoshavim), and during the summer, worked at the family's bee farm. Uriel was always curious to see life beyond the moshav and studied in Lod's science high school, where she was exposed to the coexistence between Jews and Arabs in the city. Afterwards, she pursued her education in the Eastern Mediterranean International School, gaining knowledge and experience from living with friends from over 60 countries in a boarding school. After graduation, Uriel traveled through Europe and the US, meeting some friends along the way. She was drafted to the intelligence unit of the Israeli Defense Forces, where she took a leading role in her team on various meaningful projects. During her service, she also completed the intelligence officers' course. After her release, she worked in the defense ministry for one year through a challenging period of security escalation. Uriel is specifically interested in cultural and language exchange. She speaks Hebrew, English, Spanish, and some Arabic, and enjoys traveling solo and hiking through nature. She could see herself working in the field of journalism or social entrepreneurship, helping people bring their story to light and make a change.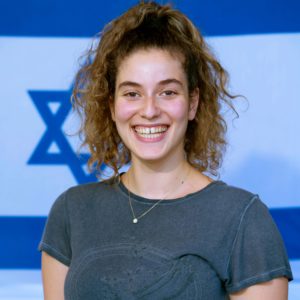 Yarden Shiri
Agudas Achim of Northern Virginia

Yarden grew up in Ashkelon, a city on the southern part of Israel's coast. She studied art in high school and majored in theater, physics, and computer science. During her high school years, Yarden participated in the Diller Teens Fellows Program – a Jewish leadership initiative that invites a select group of students from Israel and the US to lead their communities. That was her first meeting with Jewish communities outside of Israel. After high school, Yarden was drafted to the Israeli Defense Forces, where she served as a computer programmer in the Israeli Intelligence Corps. During that time, she started a degree in computer science. In her free time, Yarden likes to dive, dance, draw, play sports, and watch a good show. Theater is also a big part of her life. She was an actress at the Ashkelon Municipal Theater where they staged original productions on social issues based on personal experiences. After a year of shlichut (a group of Israeli cultural emissaries) at the Jewish Federation of Pensacola Florida, Yarden is excited to start her second year as a shlicha (Israeli emissary) at Agudas Achim.
During her shlichut, Yarden hopes to share, among other things, the story of the Jews of Iraq and, in particular, the story of her family. Yarden feels that her story, and the stories of so many Jews from Arab and Eastern lands, has been somewhat forgotten and that not many people know about the magnificent cultures, the Zionist underground, the struggles, and the stories of them making Aliya to Israel. Yarden grew up watching Iraqi films with her grandma, eating Iraqi food, and hearing her grandparents speak Arabic. She heard a lot of amazing stories about a grand past in Iraq – stories that as a child she couldn't appreciate enough. Yarden now feels proud that this is her family's story and that she now has a chance to share it with the Greater Washington community.
Hagai Dagan Schlachter
Senior Shaliach, The Jewish Federation of Greater Washington

The Jewish Federation of Greater Washington is thrilled to welcome Hagai Dagan Schlachter to our community as our senior shaliach (Israeli emissary)! Learn about his background, career path, and what he hopes to bring to Greater Washington.
*Through the Imagine Israel initiative, Federation fulfills its long-standing commitment to connecting Washingtonians with Israel and Israelis through the lens of social chance. A wide variety of social impact programs foster meaningful relationships with the country and its people – programs that make real, sustained impact locally and in Israel.